Hi everyone!
This year one of the biggest things in beauty has definitely been hair oils. They're supposed to work miracles on dry, damaged hair and turn frazzled ends into soft and shiny tresses. As someone who is hypersensitive to the feeling of having greasy or oily skin and hair, the thought of putting oil anywhere on my person didn't sit right with me at all. However, my hair is constantly in need of moisture, and seeing as everyone seemed to be loving them, I finally decided to give them a go.
The two main contenders on the market are definitely
Macadamia Healing Oil Treatment
or
Moroccanoil Treatment
. Both are oils (obviously) which claim to provide intense nourishment, repair damage, make hair shiny and reduce drying time, without leaving any residue. I kept trying to decide which one I wanted to go for, but in the end I ended up buying mini sizes of both and seeing which I preferred!
Let the battle commence...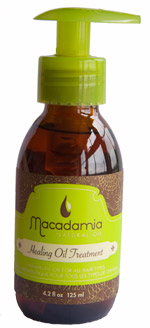 Apologies for the stock images but I only have the mini sizes, so thought I'd give you an idea of what the regular full size products look like! Our first contender on the top is Moroccanoil - it looks exotic with the expensive-looking brown glass bottle and blue label. It has a screw top, but I believe it comes with a separate pump which you can use if you like. Our second contender on the bottom is Macadamia Oil - this bottle is made of plastic and has quite natural-looking brown and green themed packaging which is pretty but understated at the same time. It also comes with a pump top. I love the extravagance of the glass bottle in the Moroccanoil, but the permanent pump top and green colours means for me Macadamia Oil wins this round.
This is what I actually own - two little 10ml miniature bottles of each oil, perfect for giving them a test run. Although it doesn't look like a lot, a little really goes a long way with these oils - I've been using both for weeks and still have plenty left. The only thing they're missing is tiny little pump tops as they'd make dispensing the product easier!
Let's take a closer look at Moroccanoil...
Worth mentioning is that Moroccanoil doesn't sell these little 10ml sizes separately and I had to get mine from eBay after it was separated from a travel set. I paid around £4. The smallest size they sell separately is 25ml, which costs around £13 and is quite a lot to spend on a product you just want to try. Macadamia Oil wins round 2 as they sell a 10ml bottle separately
The main ingredient in Moroccanoil is Argan oil, which is extracted from the kernels of the Argan tree which is found in Morocco, hence the brand name Moroccanoil. It contains Vitamin E, essential fatty acids and antioxidants, which all work together to nourish the hair. Moroccanoil can be applied to clean, towel-dried hair, focusing on the ends to nourish and help speed up drying time. It can also be applied to dry hair to tame frizziness and flyaways, used as an overnight conditioning treatment, or added to hair dye to allow better colour absorption and to prevent the hair drying out too much
The oil itself is an amber colour and is quite thick and rich. It has a sort of sweet, artifical minty vanilla smell - I quite like it, plus it lasts for quite a while in the hair. It works into the hair well, but you should be careful not to use too much - a little goes a long way, and too much can make the hair feel heavy. I noticed my hair seems sleeker, straighter and softer when I use this, both as a conditioning treatment on towel-dried hair and as a finishing treatment on dry hair. It definitely speeds up drying time :)
Up next - Macadamia Oil!
I paid around £4 for this miniature size which is widely available on many beauty product websites
Macadamia Oil can be used in exactly the same way as Moroccanoil - on wet hair, dry hair, and as an addition to other products. It contains Argan oil like Moroccanoil does, but also Macadamia Nut oil, which is yet another hair-nourishing oil. The double-whammy ingredients mean Macadamia Oil also wins round 3 (I think you can see how this fight is going to pan out already...)
Macadamia Oil is lighter in colour than Moroccanoil, but it's just as thick, and has a rich, sweet smell that is definitely less articifial than Moroccanoil and also stays on the hair throughout the day. I really like both scents, but again, the natural smell of Macadamia Oil means it wins for me. This also worked very well into their hair and made it softer and shinier and much more manageable without ever feeling like my hair was weighed down. The claim that it reduces drying time is also true!
To be completely honest, I didn't notice a huge difference in performance between these oils. If we're really splitting hairs (pun intended :P), Macadamia Oil maybe made my hair feel a fraction softer than Moroccanoil, plus it's much less likely to leave a residue, and combined with the fact that I prefer the smell and packaging, for me it's the one I would go for. The price difference is also pretty big: Moroccanoil costs around £25-30 for 100ml, whereas Macadamia Oil is around £15-20 for 125ml of product. So you get more product for less money with Macadamia Oil - definitely better in that respect!
These oils are both quite pricey, and there are other cheaper oils out there that claim to do the same thing. I have a review of one of those cheaper oils in the works, but I will say that the thickness and richness of these products makes me feel their price is somewhat justified, and they really do make your hair feel lovely. I think which you will like more is purely down to personal taste in scent and packaging, but my vote definitely goes to Macadamia Oil.
Have you tried these hair oils?