Latest Makeup Trends - Odd on These Bents
Fashion Weeks in Milan, Paris, London and New York are arguably the most impressive fashion events of the year from which makeup trends can be forecast for the coming seasons. From metallic shadows on eyelids to blueberry shades on the lips, makeup in the autumn-winter 2018/2019 season have introduced some incredible colour combinations that continue with the use of glitter, but other looks taking on neon colours of the rainbow.
In 2019 we can expect to see many different shades of metallic eye shades, wine colours for the lips and long, dense, false eyelashes. There are many makeup courses wich will show you how to Interpretate the latest trends. The gradual move from dusky eyes to designer eyes will likely see unique images that are like works of art.
Fresh Looking Skin is always a Trend
Looking ahead to trends in 2019, it would appear that there is no end to the natural makeup look that has been around for several seasons, giving the image of makeup without makeup. However, whilst this continues being popular, bright accents are expected to appear more often, and for the skin, the trend is for a dewy, almost ethereal skin for summer 2019 which requires good highlighting to create the right glow.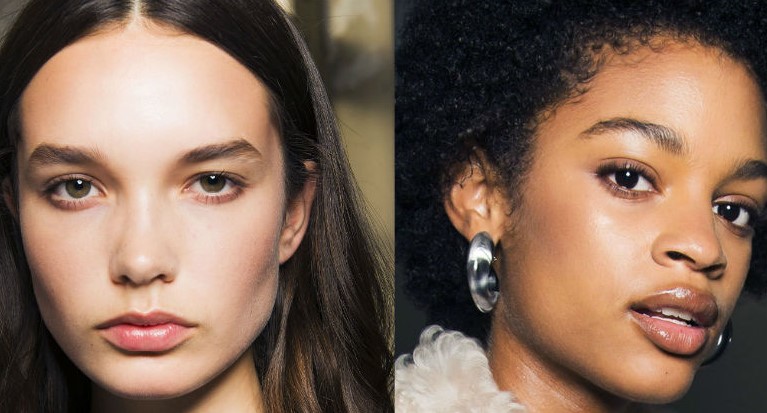 Shimmery Smokes
Whilst glistening textures remain popular, with glitter on lips and creating mask-like faces, smoky eyes are also still popular, with lustrous taupe all over the lid and a winged-out style of the liner and a pop of metallic colour on the inner corners.
Colour Clash
Colour is definitely coming back, and brightly too. There is a clash of colour between the eyes and lips, which actually works. Neon makeup accents were seen at the fashion weeks with models wearing lime-green eyeliner, safety orange shadow, hot-pink mascara and electric caramel-coloured lipstick. Artist colour pencils are best for this trend as they can be used on the eyes as well as a lipstick for a look that appears both effortless and pretty.
We have seen rainbow shades on the catwalk, bold yellows, pinks and blues. If any one colour has stood out most on fashion runways for 2019, it has been canary yellow, which showed up in the form of matte, opaque eyeshadow at Rodarte, Marc Jacobs and others and was often paired with pinks or reds elsewhere on the face.
Pink blush, shadows and lipstick
Whilst all the colours of the rainbow are on trend, special attention has to be paid to the increased use of pink in fashion makeup. From pastel to neon, pink is being used everywhere from cheeks, lips and eyelids. The colour is young and gives a fresh look whether used as gloss or matte. Another interesting option is to paint the eyelashes in pink mascara. For those not wanting to use pink eyeshadow, line the eyes in a neon pink gel and use black kohl to create a double-line look that is impressive.
Black eyeliner
Black eyeliner will remain on trend, but without the limit to the classic small cats-eyes and single lines. Black eyeliner remains the most popular of women's eye cosmetics, but now there are arrows, feathered lines, thunderbolts and lines below the eye which works with all eye colours whether the remaining makeup is nude or bold metallic. Gucci and Calvin Klein have both seen to be using striking black liner broken up with blank spaces on the lower lash-line.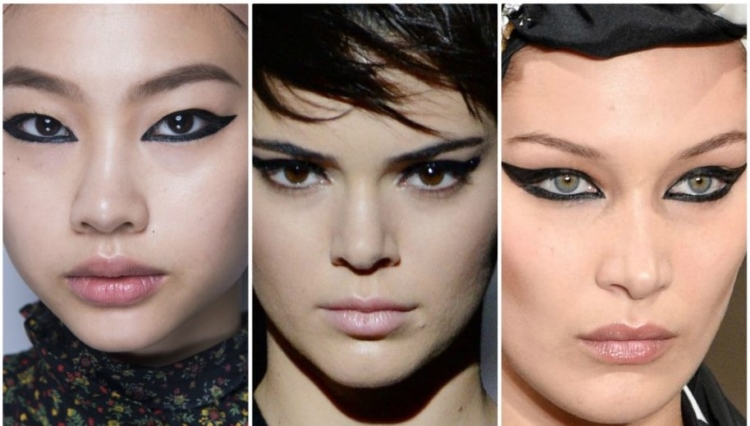 Gothic and punk
Feline, dark eyes with clear contoured lips is the "Gothic makeup" look on trend for 2019. The emphasis is on the eyes and lips, and being so bold, is probably only going to be worn by the bravest of women.
Lips Treds
Pretty, glossy and bright lipsticks are expected to be on trend in 2019. The dark berry colour is expected to be on trend, so go for bold with all shades of burgundy, plum and dark purple. You can paint your lips and leave the rest of your face in naked makeup or add a black eyeline with a brightly coloured eyeshadow.
Eyebrow trends
When applying makeup, do not forget about the eyebrows. Since 2017 without exception, eyebrows have become unnaturally large. However, 2019 is likely to see a completely different look with eyebrows more natural in colour and width.

Hair colour
Surprising to see growth as trends are neon and vintage pastels for hair. Vibrant hair extensions in purples, yellows and neon greens were seen woven into braids and tied into messy knotted ponytails, with the emphasis the colours can never be mistaken for natural tones. In contrast to this, flowers and greenery act as hair accessories, with fresh roses dyed to coordinate with the clothing, being woven into updos and braids for a romantic effect. More subtle styles include buds randomly placed in the hair, whilst another trend sees the use of faux tropical flowers as accents to the hairstyle.